Skip Navigation
Website Accessibility
Testimonials



IFBB Pro Russ Allen



Written on his way home after winning his IFBB Pro card......On the plane right now reflecting over the weekend.... It still hasn't really sunk in yet. I still have so many people to reach out to and thank but I needed to get this one out first. It literally brings tears to my eyes thinking about what an amazing person this Man has been to me. I text him this the night before pre judging. When no one else believed in me, he did. When everyone doubted me, he didn't. The day I met Shane he told me I would become an IFBB pro some day. At first I didn't believe it. I had no belief in myself at the time. I honestly have no idea what even kept me going then but I do know this... I thought about quitting so many times it's unreal. But something inside of me wouldn't allow it. Maybe it was that I never wanted to let him down? I could always here his voice in my head saying... "This is gonna happen"... When Shane and I won out first class together it sparked something inside of me so deep I refused to give up after that. No matter what! It changed my whole life, My work ethic, My coaching ability, Everything! My drive and passion to become a pro was unstoppable! I started surrounding myself with only those who believed in me and would push me to live my dreams. I met an amazing group of very close friends. And I held on so tight because I knew I was in the perfect environment to make this happen. Shane pushed me to every limit possible. He opened his arms and his life to mine and guided me in exactly the right direction. And here we are!! My dreams have come true. And it's so surreal!! All I have to say to all of you out there is this... DO NOT GIVE UP!!! EVER!! If you truly believe in your heart you can accomplish something. YOU CAN! And don't stop until you do it! Let nothing get in your way. We didn't. And here we are. I am Shane's first Professional bodybuilder. I know this was his dream as much as mine. WE DID IT BUDDY!

Tabitha Shuman

When I first decided I wanted to compete, my reasoning was pretty out of the norm. When I decided to compete, it was to close a chapter in my life and face my fears of judgment by specifically being judged. Throughout the years, I have tried to overcome a past that still impacts my life. I was in a horrible relationship where I was critiqued on my appearance. With every flaw embedded in my mind, the battle with my reflection in the mirror is and has been a constant struggle. My past lead me to suffering with anorexia, and it took me until I was unable to function day by day until I decided enough was enough and I got help. My metabolism was demolished and I gained about 30 lbs., which felt impossible to get off. I was lifting, doing extreme amounts of cardio, and eating what I thought was healthy meals, but nothing seemed to work. I saw these strong beautiful women like Andreia Brazier, Marissa Rivero, and Shane's very own client Amy Updike and Crystal Green and was envious. These were the women I looked up to and wished I could one day be like. I wanted to also be a representation of how strong women are beautiful. Of course I didn't know where to start, so I was first referred to a cookie cutter local trainer in North Carolina that wasn't what I was looking for. After I noticed Shane Heugly was Amy and Crystal's Prep Coach, I instantly contacted him in June 2013 and never looked back. Since day one he personalized everything to my individual needs, creating a diet that my body responded well to and workouts that prepared me to step on stage. When it came to my approach on dieting, I was well aware I had no self-control on handling the macro option so I took a clean diet approach that Shane personalized with foods I enjoyed. Tiffany was helpful at choosing the best bikinis and posing that would put the finishing touches on my look on stage. Let me not neglect to say, not only did Shane prepare me to bring my best packages to every show I have competed in, he has also acted as a therapist. Since I struggled with an eating disorder and still battling body dysmorphic disorder, it is hard to see me and the progress I make. Shane has always reminded me and helped me reflect on the progress I make every week. He has never neglected to be there when I needed him as reassurance that I was on track. He goes above and beyond to tend to his client's needs regardless of where the clients are located. With that being said, as an online client, I rely a lot on social media and luckily Team Heugly has amazing teammates who are willing to share their love and support to you even if your miles away! Since 2013, I have competed in five shows; one in 2013 and four shows in 2014 all in North Carolina. Each show I came in better and better, never once doubted myself and where I can one day be regardless on the placement. I was happy with the relationship I had with my trainers and how tentative Shane was to my needs. With that being said, I have taken home two 3rd Place trophies and my last show of 2014 I took home 1st place at the same show I competed at in 2013. I plan on competing in nationals in 2015 and continuing to compete in years to come, and I know with the help of my trainers Shane and Tiffany I will bring my best. So although I started off stepping on stage to close a chapter in my life and be proud of the person I am, I honestly fell in love with the sport and respect anyone who steps foot on that stage! To the people interested in competing, I say "do it!" This sport is a true test of your willpower and it is a very liberating feeling when you step on stage and reminisce on how far you took your body. Never go a day regretting not doing something your heart pumps for. Do your research, find what is best to meet your personal needs, and trust the process. Whether in person or online training, you're in great hands with Team Heugly!

Tamara Andrade

"Where do I even begin? I could go on and on about just how great Shane and Tiff are, but I will start when I first heard about Team Heugly.



The first time I ever competed was in 2012 . I remember seeing their clients on stage and thinking to myself just how polished they all were. Since then, I had contacted Shane a few times about competing, and finally, when I was ready to start my second prep, there was no doubt in my mind I wanted to go through Shane. My entire prep, I felt happy. I felt energized. I didn't feel depleted once, and I couldn't have been happier with how much my body was changing.





Shane would check in with me constantly to make sure I still was seeing changes and that my energy was staying high. He was always willing to answer any questions and address any of my concerns with no hesitation.



While Shane was taking care of all my work outs and meals, Tiffany was right there helping me pick out the perfect suit color, helping me with my posing, and even making sure I was set up with hair and makeup. Not to mention, back stage she was an absolute lifesaver! In all the commotion, she was able to make sure all of us were ready for stage and felt comfortable with our presentations.



I truly was so grateful to be on this team and to work with Shane and Tiffany, the best of the best! There is no doubt in my mind that with every future competition I choose to do, I will be a part of TEAM HEUGLY!"



BreeAnna Cox

I have wanted to do a competition for 7 years. My main hesitation was all the horror stories I heard from people who hired coaches and they had no clue what they were doing. I wanted to do it the healthy way and not mess up my metabolism.
I found Shane through a mutual friend and everyone I knew who had him as their coach was so positive about his training philosophy. I decided to give it a try and it was the start of my life transformation!
I'm a personal trainer, and I thought I had enough knowledge to do this on my own... Boy was I wrong! Shane taught me so many things about the world of competing as well as diet and training. He is so knowledgeable and willing to explain why he has you do the things he does. I had a million questions throughout the whole process and he would respond within minutes. He is the perfect balance of "tough love" and encouragement. He will be honest with you if he feels you need more time and encouraging when you need some motivation.
I prepped for my first NPC competition for 16 weeks and felt healthy and very prepared. I never felt depleted, and had enough energy to get through my days with my little girl. It was honestly the best decision to go with Shane. I cannot say enough about how positive my experience was. When I am ready to compete again he is the only coach I will ever hire.
BreeAnna Cox
NPC Bikini Competitor

Corey Polkinhorne

My name is Corey, and I have competed in 2 competitions. After my first time stepping on stage I really wanted to take my training and nutrition to the next level to really benefit me as a bodybuilder. My wife had been under the guidance of Shane already and I loved the changes she was making and the goals she was accomplishing so I decided to join and be apart of Team Heugly. This was the best decision I could have ever made. Shane sturctured my meal plan to suit me with measured out portions, with several meals per day and eating every couple of hours. Because of the well structured diet I never went hungry. The training plan was also designed for my personal goals and within a short period of time I noticed improvements in my strength and shape. Although I am on the other side of the world to Shane, communication was extremely effective, questions were always answered, adjustments to diet were done when required and help was always there when I needed it.The knowledge I received from being under Shane's guidance is second to none and the improvements and goals I achieved before stepping on stage for the second time was shown on the day of competition. He was there for support literally right up to minutes before I stepped on stage where I brought my best conditioning to date. I'm proud to be a part of Team Heugly and will continue to be apart of this awesome team.

Holly B.

I began competing back in 2010. I started with bikini and by 2012 moved into figure. After each show, my body started shutting down little by little and by the end of my figure show my metabolism was fried I had developed stress fractures in my feet and within two months I put on close to 30 lbs! (And No it wasn't due to just a feeding frenzy!) I saw an endocrinologist and Basically everything had stopped working, I was going through Metabolic Damage! I was devastated!!! I loved this sport! Loved competing, loved working out, the whole process, and I knew there was a way to continue doing what I loved without destroying my body afterwards!! So I began researching, that's when I found Team Heugly!!!
I joined team Heugly in August 2013, and was one of THE BEST DECISIONS of my life! Shane helped me open a whole new window on how I viewed getting show ready as well as being able to maintain a healthy, fit lifestyle! My workouts remained up-beat throughout my whole prep, my cardio was half of what I had been used to and I was eating more FOOD and CARBS than ever before! I prepped for 12 weeks, competed in Denver at the Rocky, placing 2nd in figure open C class. I came in looking my Leanest, and placing better than any previous show..... Not to mention.... NO POST SHOW REBOUND!!!
Shane and I did everything via email and text, I would do weekly check-ins to make sure I was on track. Shane ALWAYS responded to all my questions and concerns very quickly, and when I needed an extra boost he would shoot me a text mid-week just to make sure I was feeling good and energized, motivated and on track! He never made me feel like he didn't have time or that I was a bother no matter the time of day!
He also would make adjustment to my diet and workout plan when needed so that I was constantly changing and getting better!
Tiffany was just as amazing! While Shane kept my diet and training on point, Tiffany was right there making sure I was prepared and ready to go on show day. She helped me with decisions on my suit design and color, hair and makeup, helped me fix my posing and presentation through video and emailed me a list of everything I needed or might need for traveling and show day! She truly helped take a lot of the stress off my shoulders!
This team is hands down AMAZING!! Weather your looking to compete in a show, find a healthy lifestyle, shed some unwanted pounds, you can honestly not go wrong when you choose to work with this team!! You will end up with so much more than you pay for.... Shane and Tiffany genuinely care and respect each and everyone of their clients, they want to see you succeed and reach your goals! This team is so supportive and encouraging it feels like a Big Family!

Klarissa L.
When I first decided I wanted to compete I had no idea where to begin. All I knew was that there was no way I could do it by myself and I wanted to prep in the healthiest way possible. I've always been an athlete my whole life and any athlete knows how important it is to have a coach and team who are 1. dependable and 2. supportive. So, I began searching for coaches and came across Team Heugly through the Instagram fitness community. After seeing all the incredible work Shane and Tiffany have done with their team of athletes, I immediately emailed Shane to inquire about becoming a part of it.
I officially joined Team Heugly in July 2013 and it has been the most AMAZING experience of my life! Shane and I worked together via email and text my entire prep being that we were on two different sides of the country. Despite the distance, he was always extremely enthusiastic, supportive, quickly answered any questions I had, and put all of my worries, fears, and nerves to rest! We would evaluate my progress through weekly check-ins and adjust my workouts and diet if need be. Shane always, always, always made sure I was on track physically with my workouts and diet but he also made sure I was on track mentally as well; whenever I needed a motivation boost, Shane was there!
Throughout my prep I also worked with Tiffany, who was a HUGE help as well. Tiffany was always there to make sure I was prepared for my shows with my suit selection, posing, providing me with a packing list for show day, etc. I would send Tiffany pictures and videos of my posing and presentation via text and email and she would always respond with extremely helpful feedback and corrections. She was always enthusiastic and a gigantic help in taking away a lot of the stress I had.
At the beginning of my prep I remember telling Shane that I wanted to be as ready as possible for my shows and he assured me I would be. By the time my shows came around, I felt just that... READY. I ended up taking 1st Place in Figure Class C at both the NPC Gold's Classic and at the NPC East Coast Championships, and 2nd Place in Figure Class D at the NPC Eastern USA Championships. I could not have asked for a better experience for my first season competing and I owe ALL of it to Shane and Tiffany.
And even now that my competitions are done for this year, I still receive the same amount of support from Shane that I did during my prep. He's still always there to answer my questions, provide me with diet and workout help, etc.
Being a part of Team Heugly has not only transformed me physically but mentally as well. A year ago, I would have never imagined I'd be where I am today. I am happier, more positive than ever, stronger, and just overall a better, healthier me. I encourage anyone and everyone who is considering becoming a part of this team to 100% DO IT. Shane and Tiffany show the same amount of attention, enthusiasm, support, and dedication to every single one of their clients. Any athlete knows that their coaches and team are like a second family and being a part of Team Heugly is just that!
Shavonne
My name is Shavonne and I am a Colorado wife and mother of 2. I started my healthier lifestyle a couple of years ago. I wanted to take my physique to another level. I wanted to see it as I've never seen it before, so I decided to enter a NPC Bikini competition. After researching coaches and teams for a few months, a friend pointed me in the direction of Shane and Tiffany Heugly. She was preparing for a competition at the time and spoke very highly of her coaches. I was a bit skeptical because of the long distance. I know now that I couldn't have picked a better team to be a part of! From day 1 of my 14 week prep, I had the workouts, meal plans and coaching that I needed to be successful on stage. All of my questions were answered and I sent in my weekly progress pictures to Shane, which helped me to stay accountable while living in another state. I also sent in videos to Tiffany so she could tell me what I needed to work on as far as posing and stage presence. She was also instrumental in helping me find a great suit! She has a great eye ;-) I have teammates in Colorado, and we meet every time we can to workout, practice posing and just to give a needed push every now and then. I have competed in two shows with Team Heugly and I can't imagine being on another team. My next show is in the fall of 2013 and I can't wait to see how Shane and Tiffany will help to showcase my efforts and hard work! You will NOT go wrong in picking Team Heugly to help you achieve your fitness goals. Don't hesitate, contact them today!
Karen H.


I joined Team Heugly a year ago and can say without a doubt it has been one of the best decisions of my life. I have been thin most of my life, but had started to gain weight as I got older. I finally got to the point where I wanted to stop letting my weight fluctuate and do something about it once and for all. I was referred to Shane in late 2011 by a friend who was competing and after deciding it was time to get back into shape I hired Shane to prepare me for my own future competition. I am shy by nature, so I knew the fear of being on stage would make me work harder and help to hold me accountable.
I lived in Miami when I started training with Shane so I worked with him remotely until I moved to Utah three months later. Once I got to Utah, I started to train directly with him once a week and we continued to work toward an upcoming competition. All my contest preparation and posing was done with Tiffany while Shane focused on my workouts and nutrition plan.
Now, one year and four competitions later, I have earned two 2nd place finishes, three 1st place finishes and two Overall wins…graduating from local shows to the National NPC stage. And my successes aren't just with the trophies; I am stronger on the inside too. I feel more confident, I handle stress much better, and I am much happier as a person.
Competition aside, Shane has helped me to build a strong, stable and realistic foundation of what it means to be fit and healthy that I will take with me after the lights fade. Team Heugly generates results! They back up what they say and do, day in and out. They are dedicated and available anytime to their clients, providing support and whatever is needed to help their clients reach their goals. Whether it is remote training or in person training, Team Heugly is who you want to help you get to the next level and achieve your personal goals.
Over the last year Shane has earned the highest level of my respect for his professionalism, expertise and ability to understand my challenges and help me to meet them head on and overcome them. Shane has supported me in achieving my goals, showing dedication and commitment at every opportunity to help me achieve them. He has not only challenged me physically, he has challenged me emotionally to be as strong on the inside as I have become on the outside. Shane has taught me what is really important; maintaining my health and staying in tune with my body.
Every worthwhile goal requires a journey and every worthwhile journey requires dedication and effort. Your goals are within reach and will be that much easier to achieve with Team Heugly on your side. Set your goals today and let Team Heugly help you get there. You'll be AMAZED with the results!

Misty H.

At my heaviest, I was 220 lbs. I realized I was out of control when I saw a picture of myself and decided that I was going to make a lifestyle change for not only me, but for my family. I lost some weight on my own and then hired a couple of trainers to help me with my journey. They all helped some and gave me some knowledge about weight loss and I loved the healthy lifestyle so I became a trainer myself to help others. I maintained my weight at 155 for 5 years.
I needed to hit my goal and that was to train to be a Figure competitor. My motivation was to try to show others that it is possible to change your life around with a busy lifestyle. Being a trainer, you hear all the excuses out there of why people cant lose weight. I have a part time job and a full time job, a single mom of 3 kids, and I am a student trying to get a bachelors degree. I hired the Heugly Team and since then, I got on stage at an NPC Utah show and did my first Figure Comp and placed third in the Masters division and third in the Figure Open class! During the time of training, I lost 40 lbs and now am in the best shape of my life! Shane and Tiffany were so professional and always there with any question or help that I needed! Although it was such a challenge at times and I definetely needed encouragement, I knew that I had the support and motivation that I needed with their help! They were both completely awesome and I'm so glad I decided to use them to reach my goal! My overall weight loss from the beginning to the end has been 105 lbs weight loss! Thank you for such an amazing experience and it is something I will always remember.

LeAnn B.


I want to thank Shane and Tiffany Heugly for the best experience I have ever had getting ready for a figure competition. While not having Shane in town with me through the months of preperation seemed daunting at first, he was still there to regulate my daily routine and pushed me to get the best out of every moment leading up to the Rocky Mountain. It was reassuring to have them backstage with me at all times making sure I was ready not only physically but mentally. It did not end there, Shane was engaged in the whole processes as he maintained eye contact with me the whole time I was on stage prompting me to get the best out my stage presence and make me feel at ease. With my two-first place wins you could only imagine the happiness and excitement I felt walking off stage with those trophies knowing I listened to everything they told me to do to get me there at that moment. Just a month before the competition I was disappointed and upset because I was supposed to be in a competition that Shane had told me "I wasn't ready for!" As a competitor those are words you never want to hear! I was traumatized! While disappointed in his assessment I knew I had to have faith in his decision and know that he had the best intentions for me. After coming to terms with his decision it made me push even harder!! I not only realized Shane was getting me the results that I asked for, but it became clear that I was the one that was truly accountable for my results. I am thankful that he told me that I wasn't ready thus increasing my desire for excellence. . As competitors we always want to keep our eye on the ultimate prize, in this case he recognized it was the Rocky Mountain, but in the end there is only one rule to follow to achieve my success. LISTEN TO MY TRAINER!!!!!


Amy A.


I was miserable and didn't know how to lose my baby weight. After hiring Shane Heugly as my trainer, I was shocked at how fast the fat melted off and the muscle started to form. My body transformed into a healthy, strong physique. I never understood before the correct way to eat or the role it played in making my body healthy. Shane gave and still to this day still gives me an invaluable education that has helped me to transform my body and improve my quality of life.



Alynn L.




Working with Team Heugly has been one of the best decisions I have ever made. Having competing before I had a idea of what was to come. My first show experience was not the greatest going mainly off different opinions. Shane and Tiffany changed all that, There was not a moment I felt like Shane wasn't just a text away and completely willing to help me with whatever I needed. I started working with them in Nov of and I believe my progress speaks for itself. If you would have told me I would have been able to compete at a national level and had the opportunities I do now when I started I would have told you there was no way!! They helped me make this possible in 7 months bringing home two trophies in the process. Not only has Shane transformed my body he has helped me understand a lot about the sport that I love. His knowledge is amazing and he did anything to help me whether it was push me when I needed it or to give me thumbs up when I had done my best. I always knew I could count on both of them at any time. Long story short They are the most amazing people and I would recommend them to anyone and already have to many. They changed my life and I will always be a part of Team Heugly!!!


Skyler B.




In November, 2008 I weighed in at about 230 pounds and out of shape, that's when I met Shane Heugly. After talking to a couple people that Shane had worked with, I had herd that they had great results, so I decided to work with him. By September, 2009 he had helped me put on muscle and get lean enough to compete in the 2009 NGA Northern States bodybuilding contest, where I took 1st place in the teens division.

Shane really cares about the people he works with and it shows, because of the results, and goals he has helped people achieve. He is by far one of the smartest trainers out there. I have really enjoyed working with Shane and will continue to work with him in the future.


Lisa M.


Lisa was 2 months pregnant in this photo!

I began working with Shane Heugly in 2005. I was reluctant, to say the least, to hire another trainer after working with at least three past trainers and having little to no success. I had observed his clientele and their seemingly successful path to great physiques.

After speaking with Shane on several occasions and informing him of my skepticism, he convinced me that I would not be making a mistake by training with him. Despite my reluctance, I agreed to one day a week.

After a few months, I insisted that Shane fit me into his schedule two days a week. These are, now, the only times that I work out during the week. I have gone from working out for approximately five hours a week to half of that, doing zero cardio at the gym (I get quite a bit through the day with my job and chasing after three active boys) AND getting better results than before. It is also easier to schedule my week around having two set gym times (and knowing I can't miss it because Shane is waiting for me), rather than stressing to fit in a gym visit. I can truly say I am a believer, and will forever train with Shane Heugly.


Troy E.


| | |
| --- | --- |
| | |

I began working with Shane Heugly late in fall 08, it was just another day at gym expect for one thing. That was the day that I first saw the extent of what Shane Heugly could do, that day he was prepping one of this contest clients. I will remember that day because that was the day I realized what I wanted to do! I began working with Shane Heugly the next week in preparation to compete in a natural body building show. I have never met a trainer that truly wanted me to strive for perfection. With the pure intellect and understanding of the human body, Shane an myself where able to make and shatter goals that we had set forth for myself. Shane helped me to do something that I didn't think was possible for myself. I later competed in the NPC Utah Natural I am proud to say that with Shane's intellect and his positive attitude I was able to take 2nd place in my weight classes. There is no need to take my word for it, Shane's credentials and the results he is able to help people achieve should speaks for themselves.


Garrard M.




"I have been competing in bodybuilding contests since 1999. I have always done pretty well and I thought I knew a lot about nutrition and training….Then I met Shane Heugly. Shane is without a doubt the most knowledgeable and intelligent trainer I have ever met. His knowledge of nutrition and how to apply it to each individual is without equal. It is simply amazing to me how much time he takes to work with each one of his clients, you can tell he really cares. He is always there to give you advice and to help you through the contest preparation. I was able to finally win my NGA Professional Card at the 2009 Mountain States Contest and I have no doubt that Shane was the reason for the win. I will never prepare for a contest without Shane Heugly again!"


Cole H.




Working with Shane Heugly has been by far the best decision I have ever made for my bodybuilding career! Shane has such a great perspective and love for helping others achieve their goals. He is the smartest trainer I have ever met. Shane helped me exceed my personal goals. I believe in Shane so much that I will continue to use him for all my future competitions. I can't explain everything that Shane does in this little paragraph, but for those reading this if you want to exceed your expectations then use Shane because he is the best!


Bret B.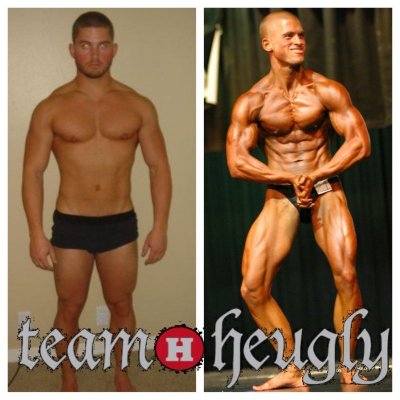 "I have to say that working with Shane has been truly a life changing experience. What started out as preparing for a bodybuilding competition has become something much bigger. The knowledge he has about physical fitness and nutrition is astonishing. He held me accountable every step of the way with my dieting and cardiovascular training and I am truly thankful; without him I simply could not have accomplished what I did. I would recommend Shane for anyone who is very serious about improving any and all aspect of their physical fitness, wether it is bodybuilding, figure competing, or just getting in shape and staying healthy."


Zach H.


Click here to read Zach's transformation

Quin S.




Coach Shane Heugly is a top competitive trainer, amongst the elite best of the best found around the world. He is always continually learning through experience and research and development to always maintain his highly educated mind to keep one step ahead of the competition. Before training with Coach Heugly I thought I knew a fair amount about nutrition. Not until after my first competition did I see just a sliver of Shane's extensive knowledge about contest prep. Coach Heugly is the best…no doubt in my mind. After meeting and training with Shane, I can honestly say that I would never prepare for a competition without his wisdom.

Shane Heugly also teaches more than skills just needed for bodybuilding too. Throughout contest prep I learned so much about many skills that are needed for success in any part of life.


Jeramiah W.




I have been an athlete for most of my life. As a result I have been able to play many different sports and have been satisfied with my overall performance in each one. I knew that I had to eat something healthy if I wanted to perform well, but I never considered eating as a solution to perform at a higher level than I had been able to previously. Shane takes this concept to a level that is out of this world. He will not only take your performance to the next level, but he will take your look to the next level as well. This guy understands the science of the body and he can control it. It might sound scary but it isn't. It's amazing. And the best part is that it is all natural. In my first comp I didn't even place in the top 5. I hired Shane and five months later I placed 2nd amongst greater competition. Shane will not only win you over with results, he will win you over with support as well. Get ready, because Team Heugly will change your life forever.


Phil S.




I have been working out most of my life, slowly bulking up but never being happy with the way I looked. I was referred to Shane Heugly by a friend to start dieting for a competition. Shane's knowledge of the human body and his passion for what he does made me realize that he wasn't just another trainer. He makes it easy to stay motivated and focus on the end goal. Working with Shane helped me far exceed my own expectations, winning two first place trophies in my first competition. I have no doubt in my mind that I will continue to work with Shane for all my nutrition needs!


Jess B.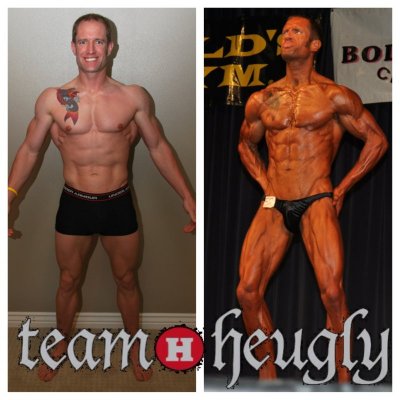 Shane is an amazing coach. This was my first bodybuilding show and I didn't know much going into it. I entered the show more for the experience than to be competitive. I broke my back just over a year ago and wanted to prove to myself that I could compete in a bodybuilding show. Because of Shane's coaching, I was able to exceed my goals and expectations and not just participate in the show but actually be a competitor. Shane gave me all of the support and help I needed. He was very patient with me and gave me expert advice. Because of Shane's knowledge and his dedication to me, I was able to win first place in my weight class. I would have never reached the level I did without Shane's help. For anyone seeking to compete in a bodybuilding show, I would highly recommend joining Team Heugly. It will make all the difference in your competition and experience.


Tannin W.
My biggest motivator; having more faith and confidence in my abilities than anyone… Shane Heugly. I joined Team Heugly in July 2011; needless to say it has been the best decision I've ever made. I had competed in figure twice, placing 5
th
and 6
th
, not long before working with Shane. After a few weeks of working with him… I decided I wanted to shoot for the upcoming October Utah NPC. However… I only had 7 weeks to prep! Shane was on board and ready to kick my booty into action in the short time we had! In this little time, with 110% dedication to preparation, I finished with a 1
st
place and Overall trophy! It was an exhilarating day – I couldn't believe it! And from that time… My adventure has begun once again in the world of competing, with my coach by my side to guide me onto the next adventure… My Pro Card! It will take time, perseverance, determination, consistency and just following everything Shane puts out on the table.
Tiffany Heugly; what an AMAZING posing coach! I learned so much in the few sessions and short time we had together as well. Tiffany guided me through posing, suit selection, hair and makeup. She perfected my tan and touched me up backstage as needed. Pumped me up before I walked on that stage and reminded me to take a deep breath and just have fun! Having both of my coaches backstage throughout the entire show was the greatest experience of all, with unconditional support for all of the Team Heugly competitors that day!
Team Heugly – We are a bodybuilding family; I couldn't be more proud to be part of such a successful team of competitors who inspire, motivate and influence one another, with the direction of the most remarkable coaches. We cheer each other on, knowing all the blood, sweat and tears each competitor endured every day, just to walk on that stage.

Paul G.
Results!!! That is what you'll expect while working with Team Heugly. I wanted to get serious about competing and to find the perfect trainer. I was referred to Shane Heugly for his expert knowledge in Contest Preparation & Training/Nutrition.
Working with Shane was Phenomenal!! Shane's knowledge, professionalism, and credentials are so impressive!! Shane was able to get me into a routine that I looked forward to every week. I began to see and feel the real benefits of 1 on 1 training. Shane pinpointed all of my strengths and worked on my weaknesses. Making me stronger and better every week. Every session I would achieve a new milestone. With Shane's continuous support and dedication I was able to compete and take home a 1st place trophy. Over a 12 month period Shane helped me make huge improvements and I am soooo proud to say I couldn't have reached the competitor level I am at without Shane's program. Shane will inspire you, help drive your motivation and he'll give you 100% of his attention and time.
I would highly recommend Team Heugly for any and all your fitness goals. I have thoroughly enjoyed working with Shane Heugly. It was the best decision I ever made..
Cat M.



I've always been a competitive athlete, mostly in dance. I've danced for years, played sports, but I've never been "The best" at anything. Always good, always stood out because of the passion I put through in whatever it was that I was performing… but never "the best". As an adult it's difficult to continue competing, especially in dance. I wanted to find a new passion… a new way to perform and compete at the same time but also something that I would be "the best" at. I've also always been interested in fitness and had a dream to one day have a body like the women who grace all of the most popular fitness magazines but never knew how to get there. I've done "Transformation" challenges but never got as far as I could with my physique. I never wanted to spend the extra money on trainers because I thought you could find all of the information you needed about getting the physique you wanted from books, the internet, and of course our favorite fitness magazines. I was wrong. There's a science to getting the perfect physique and Shane understands this science like no one's business. After seeing pictures of girlfriends who competed in these 'Body Building' competitions, I decided to get serious about competing. The competitive athlete in me told me, "You can do that."
I did my homework, spoke with numerous trainers, looked into other "coaches" for competition prep, and most importantly what fit my budget. No one compared to Shane and Tiffany Heugly. Out of everyone I spoke with, no one communicated as clearly and quickly as Shane did. That is how I knew I needed to go with Team Heugly. Shane cared enough to get back to me and provide information in such an efficient manner. I was already impressed. He's always just a text away and you can always count on him to get an answer to you. The package is a great price for what is provided and I believe that even more now that I've been through the complete process. The before and after pictures on the site were just as intriguing, of course. Tiff helped me perfect my stage presence and posing. She helped me choose a suit color that was so powerful and strong for me. I am so happy to have had her guidance in posing and suit selection but also her support as a woman who has been through this process.
The Journey wasn't easy but it was nothing less than amazing. I learned a lot about myself during competition prep. It's a total mental competition with yourself, every single day. You're up, then you're down. One day you want to quit, then you have a perfect day that was dedicated 100%, then the next day you're exhausted and want to quit again! Shane and Tiff were there to support, motivate, and encourage me when I felt like giving up. They never told me I couldn't do something and never made me feel like I couldn't win. They were always proud of me and that made me push even harder. They always helped me keep my eye on my goal by reminding me that I had the potential to win. They are the best coaches I have ever had.
My New Years resolution was to place top 5 at a competition. This is what I considered being "The best". I accomplished and exceeded my goal! I found a passion in the sport and something that I could be "The Best" at. I've learned that in this sport, I am my biggest competitor. I can honestly say that I would have never been able to do it without Shane and Tiff. I feel so proud to be apart of such an elite group and am proud to say that they are my coaches. They got me to the finish line with flying colors. Thanks Shane and Tiff for always believing in me and making me "The Best".

Janessa N.

I have been physically active all my life, and always tried to live a healthy lifestyle. I had tried other methods of loosing weight and staying in shape, but would eventually loose my motivation and give up, never quite getting where I wanted to be. Having had friends who competed, I decided to look into the sport and was referred to Shane by a friend. As soon as I started training with him I was seeing results immediately. His knowledge of nutrition and the human body is incredible! He knew just what I needed to get me to where I needed to be by just looking at my picture! I never thought I could be this physically fit and Shane really helped me see my potential. He was so encouraging and always willing to answer any questions I had. I knew if I needed anything he was just a text away. Whether it be for another competition or just for everyday life, I will be a lifelong client of Shane & Tiffany Heugly!
Dean S.



I always have been an avid gym goer. I had seen okay results by putting on quiet a bit of muscle but never had gotten the defined abs or the cut arms I had really wanted. This past November my wife decided she wanted to do a bodybuilding show and contacted Shane and Tiffany to help her get started. I decided to join her thinking I had nothing to lose. But boy I was wrong! I lost 25lbs and gained a great amount of muscle. After 16 weeks of hard work, an amazing nutrition plan and a great trainer I competed in my first body building show in the men's physique division and took home the 4th place trophy! Not too shabby for a 35 year old father and husband! I am now addicted and plan competing many more times! Thanks Team Heugly!
Transform Yourself

TODAY!

If you are ready to be in the best shape of your life, meet with us for a FREE consultation.